~GRAVESTONE Artwear's The Original "Old Stone" Rubbing Kit~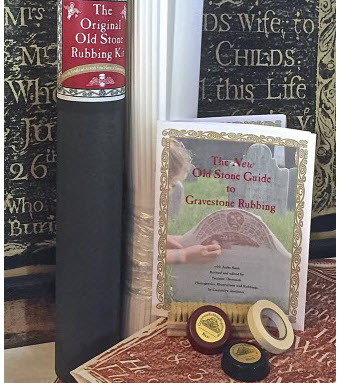 MADE IN THE USA!
That's right! Our brand NEW Old Stone Rubbing Kit's contents are all manufactured here in the USA.
WE LISTENED TO OUR CUSTOMERS.
In response to our customers requests for wider rubbing paper, we've added three inches to the width of our internationally known "Aqaba" brand rubbing paper. It now measures 27 inches by 36 inches to give you more rubbing surface. We have made the tube wider for easier access to its contents. The half inch wider width also gives you more space for storing your rubbings. Each Old Stone Rubbing Kit contains 5 sheets if "Aqaba" rubbing paper measuring 27 by 36 inches. Two 1/8 lb, cupcake shaped high quality, deeply pigmented rubbing waxes in the colors most demanded by our customers; one black wax and one rust wax. Special masking tape One soft natural bristle brush for cleaning debris from the stones and markers.
Click Here