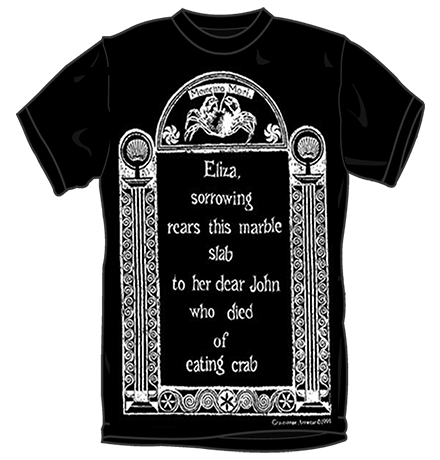 A Little Background Information
Did you know that early New England burying grounds were the first public art galleries in the New World. Even today, many of these verdant, tranquil sites contain a remarkable progression of the artistic, cultural and religious history of the region. Often, old gravestones explain how an entire family lived and died. Neglect, natural aging, and vandalism, unfortunately, have resulted in the destruction of some of the finest examples of early stone carving, and numerous old cemeteries are closed to the public to protect the remaining stones. Until the mid twentieth century, carvings on gravestones were treated as folk art and very little thought or credit was given to the talented artisans who carved these symbolic and beautiful designs.

Through careful hand-rubbing on special paper, Cassandra Davidson, founder of Gravestone Artwear®, has preserved hundreds of images representing the evolution of the early stone carvers' art from 17th century symbols to the more sophisticated and artistic tableaux of the 19th century.

Cassandra hand-cut her first silkscreen from a rubbing she made of a York, Maine, gravestone. That design was printed on a banner. It was while a student at Mass College of Art located in Boston, which happens to be the epicenter of gravestone carving in America, that Cassandra's passion for the art depicted on old Colonial gravestones took flight. In 1991, Cassandra created Gravestone Artwear® where gravestone rubbings became silkscreens and wearable art on t-shirts, tote bags, hats, stationery, banners, velvet pouches, scarves and even a line of women's fashionable dresses and accessories.
Today, Cassandra spends most of her studio time reproducing these many gravestone designs on t-shirts and hooded sweatshirts. She has created exclusive designs for Plimoth Plantation, Plymouth, Mass; Trinity Church in New York City, the Association for Gravestone Studies, specialty shops, and museums and historical societies. She has participated in preservation projects and lectured at libraries and other institutions.
This on-line catalog illustrates our most popular depictions of 17th - 19th century gravestone carvings from New England, and ancient Celtic designs from Ireland. Gravestone rubbing has become a hobby for people. It is also an intriguing way to learn history since every gravestone has a story and every old burying ground or cemetery tells us how people lived and how they died.
If you plan to rub any gravestone, please be aware that not every cemetery allows rubbings to be made. It is important to ask permission from the cemetery superintendent or perhaps get a permit to rub a gravestone from the town clerk. It is also imperative to understand that these are sacred places and must be treated with respect. Please refer to our sister site: gravestonerubbingsupplies.com for more information on this art form.
Featured in: The Boston Globe, Yankee Magazine, Down East Magazine, the Portland Press Herald, TWA's Ambassador Magazine, The Portsmouth Herald, Fosters Daily Democrat, The New Age Retailer, WCSH-TV, Boston's "Chronicle" and Portland, Maine's "207".
Thank you
Paulette and Cassandra
© Copyright Gravestone Artwear®. All Rights Reserved.